This kit was designed specifically for Science Olympiad competition. It contains all materials to build two complete 25 cm span rubber powered helicopters. It contains laser cut, cambered ribs and fixtures to allow building symmetrical, warp free rotors in both clockwise and counter clockwise pitch configurations. This year there is a standard three blade upper and lower rotor with instructions that show how to customize your helicopter by changing the pitch, chord or even the number of blades on each rotor. There is also Kevlar thread to build an ultra-light truss to reinforce the motor sticks. Step-by-step instructions and a full sized drawing help to insure success by even novice builders. There is an aerodynamics section to discuss how these helicopters work and what to look for to find increased success. With the supplied very light weight balsa and Mylar covering, these helicopters should build up close to the 3 gram minimum weight (maybe slightly more). Two bags of FAI Tan Super Sport rubber is also included (17 grams each of .125" and .140"). A winder (see below) will be a necessary tool to maximize the energy stored in the rubber motor.

This includes only materials to build 2 additional helicopters. It does NOT include Mylar, fixtures, instructions or rubber. It does include the laser cut sheet providing ribs other small pieces, spars, motor sticks, two pieces of 12" long .020" diameter piano wire and all other hardware included in the full kit (including small sanding block, Kevlar and O-rings). Multiple partial kits may be packaged in the same box.


Designed to meet "C" Division Science Olympiad specifications. This kit includes materials to build 4 gliders as well as sanding drums in 2 grits and a small two sided sanding block. It features special foam for flexible trailing edge flaps and includes a launcher. Special effort is used to provide extremely high quality balsa selected for each component. Substantial sanding will be necessary for championship results. Detailed instructions for building and flying are included. Finished gliders measure 28 cm wing span and 29 cm long and should build up to less than 3 grams, allowing slight ballast to be added to arrive at the minimum allowable weight.
This is considered a "flapper" design where the trailing edge of the wing is flexible and cambers into "flaps down" position at slow speed. Excess lift provided by a wing that flys well at low speed could cause a glider to loop upward during a hard launch. Flexible flaps allow the trailing edge to lift and straighten, reducing lift during the high velocity launch. Then when maximum altitude is reached the plane slows and the trailing edge drops to its normal "flaps down" position for a long elegant glide downward.


Extra Trailing Edge Flap Material


This is the same material provided in the ELG kit above. It is normally sanded to make it lighter and more flexible. This is a rather delicate procedure and if spares are needed, these four 039" x 2" x 11.5" strips can be good to have available.



Indoor Flyer 2011
This 2 airplane kit is designed to meet TSA (Technology Student Association) "Flight Endurance" specifications for the years 2011 - 2014 and can be modified for other events. TSA rules require a ROG (Rise off Ground) takeoff, so landing gear is included. Ribs and wheels are laser cut from very light balsa to increase success and reduce building time. It includes detailed building instructions and an Aerodynamics lesson with many insights into flight trimming for best performance. This is a TSA National Championship winning design.
This kit uses sharp, drooping leading edges on both the main wing and the horizontal stabilizer. It contains 2 fixed pitch Ikara propellers (NO SHAVING NECESSARY!) and all hardware to build two top-notch competition planes. Easy to adjust and forgiving to fly. Materials are chosen to weigh near minimum weight when built per instructions. Extremely light weight Mylar covering is supplied as well as custom cut rubber in 3 different widths. A rubber winder will be required.

Designed to meet "B" Division Science Olympiad specifications, and is a complete redesign from last year's kit. This kit is based on the 2009 National Championship winning plane. It features sharp, drooped leading edges and laser cut ribs making it easier to build than previous models. This kit utilizes the maximum wingspan of 40 cm with a wide 15 cm chord. It also utilizes an extremely large horizontal stabilizer to enhance its flying qualities. These planes, when constructed and adjusted correctly (and flown in a LARGE building), should have well over 3 minute flight capabilities. This is a Science Olympad National Championship winning design.
This is a 2 airplane kit. It contains 2 fixed pitch Ikara propellers and all hardware to build top-notch competition planes. Easy to adjust and forgiving to fly. All wood carefully considered to yield enough strength and durability yet be built to minimum weight requirements when following instructions. It is packaged with ultra light Mylar covering and includes a covering cradle (fixture used to hold Mylar to allow easy application.) Custom cut rubber in 3 different widths is also included in every kit (enough for at least thirty 1.5 gram rubber motors).



Winder - 10:1 Ratio
Built by K & P in England (smooth, high quality - yellow) and is the winder of choice of most top competitors. A quality winder is essential to "feel" the torque of the rubber while winding to achieve maximum performance. Shown is the 10:1 Ratio Winder preferred by Helicopter flyers that use heavier rubber motors (usually above .093"). Notice that it can be identified by the white tip at the output shaft.

New and improved. Now constructed of basswood with a larger protractor to allow easier measurement of the broad blade propellers. Designed to be used with the Ikara propeller assemblies. Allows you to easily slip your propeller off of the airplane and onto this gauge. Used to accurately measure pitch (angle) of the propeller blades after bending the plastic hub. This is an important tool to maximize flight performance by matching your propeller pitch to the rubber band that you are using for the size of the building that you are flying in.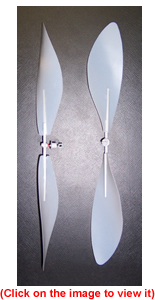 Ikara Propeller - 8 7/8"
(Legal for SO competitions)

Includes extra light propeller assembly weighing approximately 1.8 grams. No shaving necessary! Blade material is approximately .009" thick. Measures 8 7/8" diameter (22.5 cm) and can be trimmed with scissors to meet some competition rule requirements. Hub can be bent with pliers to alter pitch. This is the same propeller that is included in the kits above. It does include the pre-installed .020" shaft and Nose Button. Use a Front Hook (as shown below) to mount to motor stick – not included.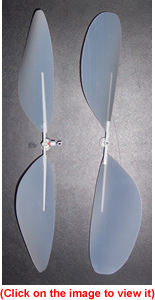 Broad Blade "Flaring Style" Propeller Assy. (Legal for SO competitions)


24 cm diameter with the same construction and materials as the standard Ikara propellers but a much wider chord located mostly ahead of the spar. This allows the thin plastic blades to slightly flex to a steeper pitch at the beginning of the flight to slow down the climb, but then flex back to the original flatter pitch for the remainder of the flight. This is a method of making somewhat of a variable pitched prop. These propellers are excessively wide and are often trimmed with scissors for maximum performance.
This kit will allow you to cut your own blade profiles from pre-cambered .010" plastic and glue them to wooden toothpick spars that are friction fit into a center hub. This allows the ultimate in freedom to experiment and discover what works best for your airplane. Also included are all mounting hardware (including propeller hangers) and Ikara hub to allow building custom fixed pitch versions. Depending on your blade profile, entire assembly will weigh from 1.4 – 2 grams. ATTENTION: "Wright Stuff" event director has interpreted the propeller rules as meaning commercially "ASSEMBLED". These have been determined illegal for "Wright Stuff" competition. Much can be learned with these propellers that will directly apply to becoming a champion in this event. These kits come with all mounting hardware (including nose hangers) to make them useable on other models as well. A propeller pitch gauge should be used to set the angle of the blades.
Note: This probably is not the best product for "Science Buddies" efficient propeller experiment. Please call Freedom Flight at (770) 460-0939 for more information and insight.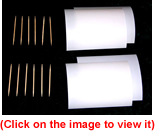 Extra Propeller Blade Material (4 precambered .010" plastic sheets with wooden toothpick spars)


This will allow you to build multiple replacement blades for the adjustable hub and experiment with different blade profiles.
These are the same plastic pieces that are used with the Ikara propeller assemblies. Each weighs .115gr and slides into the front hook to allow easy removal of the upper rotor (or propeller). A tiny glass bead is included with each to help reduce friction..


Piano Wire (.020")
This thin wire is used to make prop, rotor shafts, and extensions. Each piece is .020" diameter and is 12" long. It can easily be cut with wire cutters and bent with needle nosed pliers.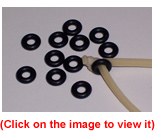 O-Rings
Buna-N (Nitrile) 7/32" (.109") Inside Dimension, 15/64" (.234") Outside dimension. These are the perfect size O-Rings to use when attaching the winder to the rubber motor for winding and then to prevent loosing winds when removing the motor from the winder to attach it the rear rubber hook. Sold by the dozen.

Mylar Covering - 5 foot roll
Crystal clear Ultrafilm Mylar covering material (1.4 microns thick). This is the same film that is included in the Fun Science and BLG kits listed above. Be prepared, have an extra roll available for repairs or further experimentation.

Custom Cut Rubber - 17 gram bag

Specify width such as .140" for helicopters (same as the heavier rubber included in our kits) or 083", .088" or .093" for airplanes. Deviations in width always occur when custom cutting rubber. Differing interpretations in measurement are also possible; however care will be taken to match your needs as closely as possible. 17 grams of FAI Tan Super Sport (enough for as many as ten 1.5 gram motors.)


Helicopter Rubber

This is a 30 gram bag of .125" wide FAI Tan Super Sport Rubber (the same as included in helicopter kits). This bag will make many motors as the normal weight of a completed motor is between 1 and 2 grams. When determining the length of your motor, be cautious not to make the loop too long where you will have unused winds after landing (that extra weight will cause it to land earlier).


Bottle with Brush Top
This amber colored glass bottle has a one ounce capacity and is perfect to store and apply acetone. Acetone is used to dilute and dissolve model cement and is invaluable for using to reposition Mylar covering when using spray adhesive on balsa frames. Acetone must be purchased locally but these are a very good container for use and storage.

Precision Digital Scale
This DigiWeigh DW-100AX Jewelry Scale is accurate to .01 gram with a maximum capacity of 100 grams. It is excellent for evaluating the weight of individual pieces of balsa as well as completed weight of your model. But you may find its primary use is weighing rubber to make motors, as this must be done accurately in order to expect consistency. Plastic cover doubles as handy weighing tray. Bright LCD read out. Comes with AAA batteries and 100 gram calibration weight.

20' Long Collapsible Fiberglass Pole (43" collapsed)

These collapsible poles have 6 sections to telescope out to approximately 6 meters. They were originally manufactured for crappie fishing rods but are perfect for model retrieval to dislodge planes from the rafters or basketball goals. Their approximate wall thickness of the segments is .032" with a maximum pole diameter of 1.25".


31' Long Collapsible Fiberglass Pole (43" collapsed)

These collapsible poles have 10 sections to telescope out to approximately 9.5 meters. These poles are much more durable and have a wall thickness of approximately .063". They weigh nearly 4.5 pounds with a maximum pole diameter of 1.88".